Why this Children Mystery Series Remains Popular in Germany Today
The question of why so many adults read young adult and teen fiction has baffled many in recent years. The still growing trend has caused heated debates among enthusiasts and sceptics. Georgina Howlett noted in The Guardian that over half of the genre's readers are indeed adults, and "adults are just people too, and we are entitled to read and like YA [Young Adult] as much as anyone!" Slate contributor Ruth Graham spoke out against older readers of teen literature, telling them they should feel "embarrassed" about their choice of reading material, and question the reasons for their continuing infatuation with these books. In the New York Times, writer Meg Wolitzer defended adults' interest, arguing: "When you're deep in a good book, you won't even hear the drumbeats." This trend and surrounding heated discussions have also been taking place in Germany. As in other countries, Joanne K. Rowling's Harry Potter series broke one record after the other. Germany's most successful writer worldwide is children's author , best known for her Tintenwelt trilogy (Inkheart), which Der Spiegel kept off its bestseller lists for years since the books were written for children. However, there is a noteworthy, intriguing anomaly to the global interest in young adult literature among German audiences: the most successful children's stories are the adventures of Die drei ??? (The Three Investigators), and Die drei ??? are primarily radio dramas originally recorded for children.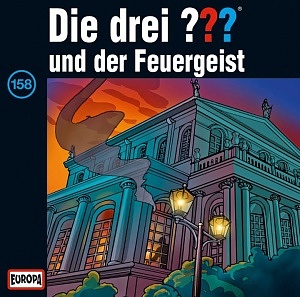 "The Three Investigators. We take on every case. First detective Justus Jonas. Second detective Peter Shaw. Third detective, responsible for research and archive, Bob Andrews." In the Three Investigators' first case, the audio book "Die drei ??? und der Super-Papagei" ("The Three Investigators and the Super Parrot"), Justus, Peter, and Bob introduce themselves via their famous business card, which appears in all of their cases and even made it onto Langnese[1] ice cream containers. Justus explains that "the question mark is a symbol for the unknown, for unanswered questions, unsolved riddles. It is our job to find answers, to unravel mysteries, and to lift any kinds of secrets. The three question marks are thus the trademark of our private investigation agency." Since 1979, the three teenagers, who reside in Rocky Beach, California, have applied their investigative skills in over 170 episodes. They figured out why the black parrot Blackbeard was a special kind of bird; they solved the secret of Mrs. Holligans' dead sister who threatens the frail, old lady months after her death in the top-ranked episode 76, the scary "Stimmen aus dem Nichts" ("Voices out of Nowhere"); and the legend of gold-minder John Dewey and his cursed gold occupies the three young detectives in the newest episode, "Der Geist des Goldgräbers" ("The Ghost of the Gold-Digger") – released at the beginning of October 2015, also available with a special toothbrush for fans.
As interesting as the question of why adults enjoy reading young adult literature is the German publication and reception history of Die drei ???. The series was originally created by American writer Robert Arthur, Jr. in 1964, and published by Random House as Alfred Hitchcock and the Three Investigators. While Hitchcock never worked on the series, he allowed Arthur to use his name and image to promote the children mystery series, in which the renowned film director also appears as a character. After Arthur's death in 1969, several other writers continued to write the books until 1987. The first German book translation appeared in 1968, the first German audio book in 1979. And the success story of Die drei ??? is indeed unthinkable without its audio play history: despite the over 180 books published in Germany – way more than have ever been written for English-speaking readers, it is first and foremost an audio drama. Currently, the audio plays are created before the novels. As such, the show has indeed made radio play history more than once, and is a German cultural phenomenon in its own right.
Today, the three voice actors who lend their voices to Justus, Peter, and Bob are as famous as rock stars: Oliver Rohrbeck (Justus), Jens Wawrczeck (Peter), und Andreas Fröhlich (Bob) have given their voices to the three curious teenagers from the very beginning of the series. In 2002, the three voice actors performed for the first time live on stage: Master of Chess was the first live tour of its kind, and stopped in over 50 cities across Germany. The success of Master of Chess lead to bigger and bigger live events: over 10 000 people listened to the performance of Die drei ??? und der Super-Papagei for the series' 25th anniversary; over 120 000 people saw Die drei ??? und der seltsame Wecker – Live and Ticking (… and the Strange Clock; 2009-2010), and Phonophobia – Sinfonie der Angst (2014-2015) attracted over 20 000 people alone at Berlin's Waldbühne on August 9, 2014. As a result of the success of the live audio play performances, Oliver Rohrbeck founded the , which organizes so-called Record Release Parties for every new episode of Die drei ???, in Berlin.
"Like a Gallic village defying the Roman Empire's relentless expansion,
Germany clings unaffectedly to physical media."
Markus Langer, Publishing Director Oetinger Media[2]
The success of Die drei ??? as audio play is indicative of Germans' love for audio books, public-service radio broadcasting, and large live performance events. The German audio book market has steadily been growing in the last decade. The most interesting part of this trend is, however, that Germans still prefer to buy their audio books in the form of physical media (CDs, cassette tapes), and that the children audio book genre spearheads the market. While Germany's public broadcasting system is under financial and ratings pressure, the diversity of its almost eighty radio stations is remarkable. And the crowds drawn by Die drei ???'s live performances mirror the sold out stadiums that comedians such as and Bülent Ceylan fill. These trends also come together in Oliver Rohrbeck's growing business Lauscherlounge which moreover produces its own live audio plays, markets audio plays, and brings together voice actors, foley artists, composers, and audiences.
To listen to an episode of Die Drei ???, go to https://youtu.be/WtwCtx50pFU. (This video is in German.)
As the WirtschaftsWoche reported in 2013, the series has sold more than 45 million audio plays, more than 16 million books, and more than 2 million games and other merchandise. Besides the aforementioned ones, Die drei ??? series continues to be popular for a variety of reasons. Since two-thirds of buyers are over forty, it seems likely that, just as it is the case for adults' interest in YA fiction, listening to Die drei ??? provides a means to momentarily escape one's stressful life by revelling nostalgically in carefree childhood memories – indeed, to re-experience growing up with Justus, Jonas, and Bob in 1980s and 1990s West Germany. Fans often confess that Die drei ??? is an integral part of their falling asleep ritual. Moreover, the habit of listening to the three teenage detectives planning their investigations in their "headquarters," an old trailer located on Justus's uncle's junkyard, is commonly shared with younger family members, who, in the era of helicopter parents, might yearn for the three boys' freedom. As Andreas Fröhlich explains, "it's a wonderful moment when you enjoy things together, listening in the car or when going to bed." By reminiscing about old times, listeners, who are from diverse backgrounds, often span entire generations, and thus create new memories. The opportunity to connect with fans, such as parents with their children, soldiers serving in Afghanistan, the defense minister, bankers, punks, and hip-hoppers, is a particular benefit of performing live, as the three voice actors stated in a recent Google Play interview. When speculating about their favourite episodes during the interview, Oliver Rohrbeck praised scripts that contain a good mix of "suspense," "mystery," "action," and also "humor". The longevity of Die drei ??? furthermore originates in the series genre, setting, and production. Germans love crime shows and : a police procedural show broadcasted since 1970 and featuring different detective teams in different cities, remains Germany's most popular television series, which also has a radio play spin-off. The Californian setting sets Die drei ??? apart from less popular children audio crime plays such as TGGK and Enid Blyton's Fünf Freunde. Justus's, Bob's, and Peter's fictional hometown Rocky Beach invites listeners to dream about California and the United States outside of contemporary sociopolitical concerns and criticism of American culture. In connection with this portrayal of a less complicated world, the series's appeal may also, as Jens Wawrczeck surmises, lie in its "clear-cut presentation of good and evil." In this respect, Die drei ??? is mystery with the benefit of feeling good at the end. While the now media-savvy teenagers no longer rely on calling family and friends who then call their circle of acquaintances to investigate – a tactic that helped solve their very first case of the "Super-Papagei," the series is characterized by its consistency: the audio plays follow a predictable format featuring a largely unaltered universe; the voices of the three young protagonists have been acted by the same narrators; and the production, headed by audio play producer Heikedine Körting, has essentially remained the same since the 1970s. It is perhaps this balanced mix between familiarity with characters and voices; steady production of quality scripts; nostalgia paired with renewed feel-good factor; consistency in format, yet a certain adaptability to changing times,;as well as availability in different, even new media settings that accounts for Die drei ??? seemingly never-ending popularity in Germany. Either way, time to
[1] Good Humor brand in Canada/US
[2] cf. http://www.boersenblatt.net/artikel-markus_langer_von_oetinger_zum_hoerbuchmarkt.952874.html
[3] The German hip-hop group Fettes Brot outed themselves as big fans, which resulted in them being featured on Die drei ??? (the aforementioned episode 76 and episode 79), and the three voice actors being part of the album Fettes Brot lässt grüßen.