Swiss director Stefan Haupt's 2014 film Der Kreis (The Circle) mixes genres in its docudramatic portrayal of lives and circumstances around the important magazine of the same name in 1956 Zurich. The film's treatment of the magazine's seldom-discussed role in Swiss and gay history comes primarily from the vantage point of two elderly gay men, Ernst Ostertag and Röbi Rapp, who appear as themselves in one of the film's interwoven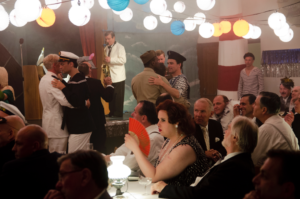 tracks and are played by professional actors in the other.  Der Kreis, Switzerland's official submission to the 2015 Academy Awards for the category of Best Foreign Language Film, fits into a mode of cinema that could lead to unsavoury results. The docudrama, as critic Tara Brady sharply observes in her review of the film, "conjures images of bad TV docs padded out by unconvincing extras doing things in unconvincing period garb." Fortunately, such a fate does not befall Haupt's film, which had been originally conceived as entirely a dramatization.
Der Kreis is essentially a love story between Ernst and Röbi that coincides with the zenith and nadir—and eventual dissolution—of the magazine and eponymous social club. Ernst, a soft-spoken and partly closeted young teacher (played with tender confidence by Matthias Hungerbühler) navigates the vital yet contained gay community of Zurich at this time. At one of the club's evening balls, Ernst, who comes from a conservative bourgeois family, is fascinated by, and meets, drag performer Röbi (played by Sven Schelker). The two quickly become a romantic item.
At the time Zurich was a well-known destination for gay travellers or nearby residents in central Europe, especially Germans, at least partly because it did not explicitly prohibit same-sex sexual activities. But club members' lives, including Ernst's closeted and married principal (played by Peter Jecklin), are complicated by a number of murders of gay men in the late 1950s, like that of composer Robert Oboussier. The film portrays the police investigation to find the killer through interrogations and occasionally intimidation and blackmail. Reluctant to inquire into what they saw as a controversial community, the police are not shown to be the friends of the gay community, although they at first have respect for the founder of Der Kreis, Rolf, who acts almost like a mayor of gay Zurich. We see that this crisis contributes to the decline and closure of a magazine that had become almost quaint among Europe's growing number of erotic publications. Röbi's mother is nothing but supportive and accepting, a brief yet warm performance by Marianne Sägebrecht. Along the way, Ernst and Röbi's relationship experiences ups and downs, although we know from the present-day Ernst and Röbi where the men of the past are headed and how their story will end up. Ernst and Röbi themselves become the first Swiss couple to enter into a registered domestic partnership when these became legal in 2007.
At the time Zurich was a well-known destination for gay travellers or nearby residents in central Europe, especially Germans, at least partly because it did not explicitly prohibit same-sex sexual activities.
Depictions of these plot points could easily have turned out poorly at worst or inelegantly at best. It is without question an important undertaking to depict these historical concerns and the situations involving the suppression and disavowal of homosexuality in all societies and time periods. The subject matter, however, can tend toward melodrama and cliché in dramatizations.
Der Kreis
could easily have offered its story in a simpler, while slightly more conventional, form. Its two tracks, "then and now," could have delivered its dramatizations of the 1950s and 1960s, on the one hand, and the interviewed recollections by Ernst and Röbi, on the other. Instead, Haupt took a different route and elected to provide even more context to these men's lives, a move which pays off well.
In an interview with the Film Society of Lincoln Center
, Haupt says that the film's style posed a challenge, because he didn't want the two tracks to become "two separate films." In its present-day track, the film deviates from the simpler incarnation of these men's past and present lives. We see excerpts of interviews with four other individuals, including journalist Klara Obermüller and Ernst's sister, Christine Baumberger-Ostertag. Archival footage of 1950s Zurich or riots in the early 1960s, for example, fills out the "documentary" track of the film, making it more robust and more intriguing, both in itself and as a part of the larger work. Skilled production design and arrangement of sets and costumes enriches the "dramatization" track.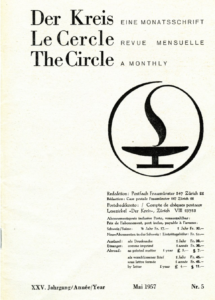 Much of the film is delivered in medium-long or long shots, which naturally situates the characters in their context without overemphasizing their environment. The majority of the scenes are shot with handheld camera. Unlike in the scene in which Ernst brings Röbi home to meet his family, where the stable camera can also reflect the stilted discomfort of everyone in the shots, it is not always clear why some of the remaining scenes deviated from the majority handheld approach and use stationary or mounted cameras. This can leave the viewer with a feeling of inconsistency and randomness which may detract from the storytelling.
The treatment of Der Kreis's history is welcome and, in fact, overdue, in light of the publication's influence and importance in central European gay rights and culture. The magazine's multilingual nature, containing as it did works in German, French, and English, likely contributed to its popularity as circulation grew in the late 1940s and 1950s.  While the periodical and the organization that published it were far from obscure prior to the appearance of Haupt's film, the latter has encouraged new interest in the history of the era and the singular circumstances of its context.