On February 8, 2013, Stephan Lacant's first feature film Freier Fall (Free Fall) premiered at the 63rd in the category "Perspektive Deutsches Kino." The much praised film tells the story of police officer Marc Borgmann (Hanno Koffler) whose seemingly perfect world gradually implodes when he begins an affair with his colleague, Kay Engel (). Spoilers to follow.
Watch the trailer to the film (in German): https://youtu.be/1kjIRxfbWIQ
Marc meets Kay during a training course on riot control. Marc, who is struggling to keep up with the academy's vigorous running exercises, is immediately intrigued by his roommate's rebellious, confident attitude. Their growing mutual attraction – playing out in hidden smiles and glances, joint smoking sessions, roughhousing in the pool, and regular jogging outings – climaxes in a first intense sex scene during one of their regular runs through the unpopulated German forest.
When Kay asks to be transferred to Marc's unit permanently, Marc's life gradually comes apart at the seams when the soon-to-be father begins an increasingly intimate, loving relationship with his co-worker. He becomes entangled in a web of lies: his pregnant girlfriend Bettina Bischoff (Katharina Schüttler) grows increasingly suspicious of her partner's constant absences and secretive behaviour that is out of character for him. Torn between his responsibilities to his family, including his parents who just financed their son's semidetached house close to their own residence, and his building desire for Kay, who ultimately confesses his love for his training partner and asks him to come out, Marc struggles with redefining his wants and previously unquestioned identity. In the process of trying to make sense of both old and new feelings for Bettina, his new-born son, and Kay, Marc, overwhelmed by a sense of despair and inescapability, ends up hurting everyone involved.
Freier Fall explores the difficulty of existing outside of heteronormative and socially prescribed life plans in present-day Germany. The drama, featuring "the most handsome lovers of the Berlinale,"[2] responds to contemporary debates on sexual orientation, homophobia, and family values. Writer and director Lacant said about his film: "Even if homosexuality plays an important motif in the film, my primary goal was to explore the underlying archetypical conflicts that result from love, hatred, denial, and self-discovery."[3] While the film's depiction of accepting same-sex love and one's sexual orientation in a homophobic environment, subtly detailing conflicting attitudes and shifting social and institutional responses, goes beyond a simple coming out story, Lacant's vision for Freier Fall fails to come to fruition in its entirety.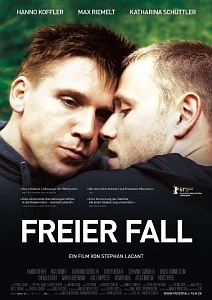 Like the story's ending, the film remains, in this regard, unfinished. Although Lacant sets out to transcend the issues of homosexuality and homophobia in his film, Freier Fall does not quite live up to this goal because these two motifs remain the constant catalysts for conflicts and topics of arguments throughout. Moreover, protagonists' sexual orientation, behaviours based on traditional gender expectations, and stereotypical attitudes about these subjects account for more of the characterization of the characters than distinct personality traits, hobbies, or likes and dislikes. Heterosexual life transpires in a suburban family setting, while homosexual relationships involve drugs and partying. Indeed, the one denominator that Marc's relationships with Bettina and Kay have in common is sexual violence and aggression. The first kiss that Kay initiates with an unsuspecting Marc is shrugged off as a joke, an incident that clearly unsettles Marc. From the obvious confusion on Marc's face, the camera jumps to him and Bettina making love. The aforementioned handjob begins with Marc telling Kay to leave him alone and ends with him running away as fast as he can. In a later, physical confrontation, Bettina, still dressed, forces herself on Marc under the shower. The issue of consent is not only never properly addressed but actually reassessed as the emergence of hidden true wants and an acceptable loss of control caused by emotions such as desire and despair. The film thus fails to show and tell some of the themes it loosely engages with and wishes to explore more deeply. Freier Fall relies on conventional cinematography, which often transmits the film's message in rather obvious ways. Cases in point are the use of hoodies as signs of being closeted and vulnerable; of mirrors, windows, and screens to depict Marc's identity crisis; of placing Kay, as the permanent outsider, in a distant position during group shots; or of enclosed, cluttered indoor rooms to mirror Marc's relationship with Bettina and of natural, more open outdoor spaces to characterize his life with Kay.
Fortunately, the film's shortcomings fade into the background in view of the three leading actors' compelling performances, the genuineness of Marc and Kay's love, the movie's unconventional, yet hopeful ending and contemporary sociopolitical relevance. Hanno Koffler's role as Marc earned him a nomination for the Deutscher Filmpreis, and Katharina Schüttler was shortlisted for the Deutsche Schauspielpreis. Spiegel's Daniel Sander, for instance, wrote about the three leads: "It's definitely true that one rarely sees actors who are that much in tune, especially in German cinema, so real and natural and immediate." In particular, the film's frank portrayal of sexual intimacy between Marc and Kay, the showing of genuine, gradually evolving affection between these two male lovers, and the surprising ending challenge German cinema's traditional aesthetic and genre conventions – and perhaps viewers as well. The portrayal of two men who simply fall in love with each other, a process that upsets everyone involved and unsettles people's way of life, yet is ultimately a form of liberation, sheds light on several contemporary, often heated debates Germans are currently engaging in, and on social changes the country is undergoing in recent years. For example, Freier Fall's plot takes place within the often hypermasculine environment of the police. As Stephan Lacant explained in interviews, the idea for Freier Fall's love story originated in his co-writer Karsten Dahlem's experiences with homophobia and discrimination among police officers, and both writers interviewed people in similar situations than Marc and Kay for their script. Discrimination based on sexual orientation and gender identity continues to be a serious issue in people's daily life. Almost exactly a year after Freier Fall's premiere, retired German professional soccer player Thomas Hitzelsperger's coming out started a passionate discussion about homophobia in the Bundesliga – he is still the only German soccer star who is officially out of the closet. Moreover, it took two years before Lacant's film was broadcasted by the ARD. And Freier Fall's obvious effort to portray Marc and Kay's feelings for each other primarily as an unstoppable love story touches on arguments brought forward in German debates on same-sex marriage in the last couple years.
"I don't think I can go on like this." Marc to Bettina
In this respect, Freier Fall certainly struck a chord with audiences and critics. The film has gathered a strong fan following, and not only in Germany, as the millions of views of the English trailer alone demonstrate. The Staatstheater Nürnberg, for instance, will stage Freier Fall: the play, also staged by Karsten Dahlem, premieres February 2016. Moreover, the outpour of support from fans worldwide inspired producers to create a sequel that will be funded through crowdfunding. Currently, Stephan Lacant and Karsten Dahlem are set to return, as are Hanno Koffler and Max Riemelt. Freier Fall 2 "is likely to see Marc meeting up again with Kay during a special assignment in Berlin after searching for him for two years without success." Until then, you can watch Freier Fall on Netflix (German with English subtitles), listen to the soundtrack by Dürbeck & Dohmen, read an interview with Hanno Koffler and Max Riemelt, follow the process of making the sequel on Facebook, or share fans' love for Marc and Kay in numerous youtube videos or tumblr gifs.
[1] cf. English trailer https://youtu.be/1kjIRxfbWIQ; advertised by 3Sat
[2] cf. promotions on http://www.freierfall-film.de/
[3] "Auch wenn Homosexualität thematisch mitschwingt, geht es mir vorrangig darum, die dahinterliegenden archetypischen Konflikte aus Liebe, Hass, Verleugnung und Selbstfindung auszuloten." http://www.taz.de/1/archiv/digitaz/artikel/?ressort=be&dig=2013%2F02%2F09%2Fa0246&cHash=a1956c9fa8dc26d878bcd0638be61da1